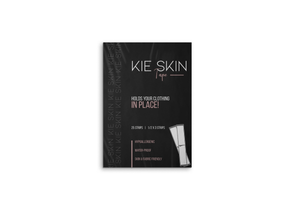 HOLDS CLOTHING STEADY

 

- double sided tape will hold your clothing and hemlines comfortably against your skin or undergarments to keep your outfit refined, classy and elegant all day long. No more embarrassing slips, visible straps or sagging necklines. 
SAFE ON SKIN

 

- Designed to be skin safe and not cause irritation when applied directly to your skin. We use safe materials that are comfortable all day long, but also wash off easily, so you don't have to deal with annoying residue or unsightly glue marks.
FABRIC FRIENDLY

 

-  Designed to not leave residue on your fabric after removal.
MOVE WITH CONFIDENCE

 

- built to hold up to movement and real life use.