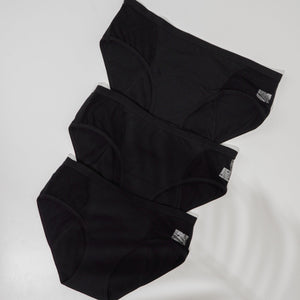 NO LEAKS, NO ODOR, NO STAINS
- Period Undies are designed with a built-in absorbent liner, providing worry-free protection
THREE-WAY PROTECTION
- Odor-protection, leak protection, and stain protection via an absorbent liner with odor-guard and stain-block technology.
Feels like Regular Underwear: 
Say goodbye to uncomfortable pads and sanitary wear with our most popular period protection underwear.
SLEEK BIKINI SILHOUETTE
- A modern low-rise waist with moderate-coverage back for discreet smoothness without bulk.
STAY COOL AND DRY
- Moisture-wicking fabric is soft against your skin.
ECO FRIENDLY & EASY TO CLEAN: Sa
ve money on pads and tampons with our sustainable, reusable period panties.
Fabric: 95% Cotton 5% Spandex